The Jam - 'Town Called Malice' lyric poster for Paul Weller & The Jam fans
£

14.99
On sale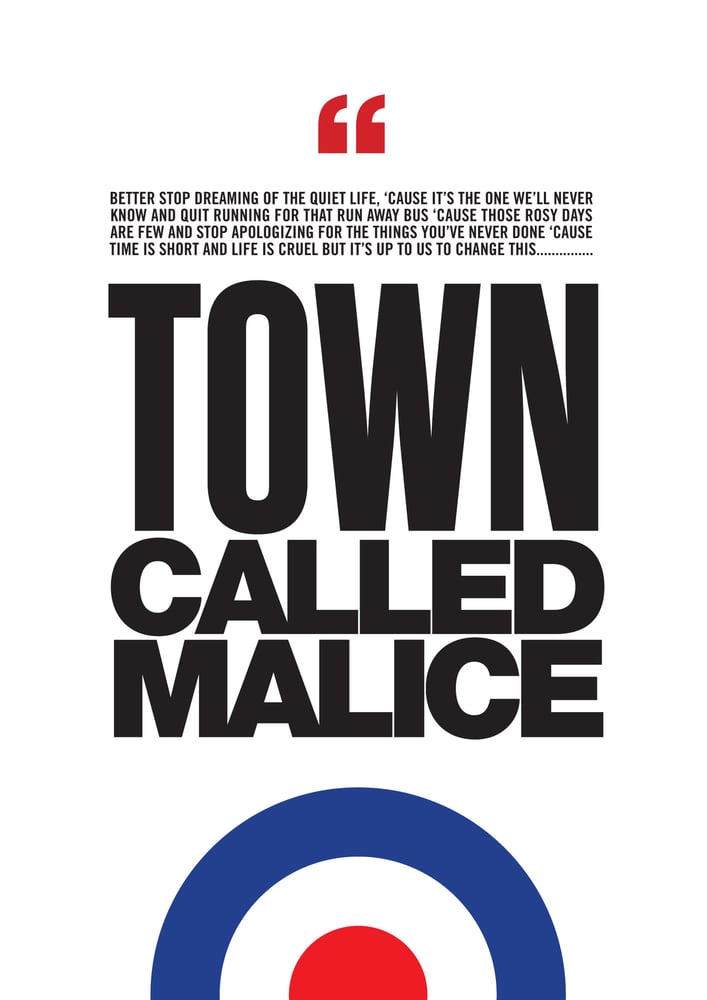 SPECIAL OFFER: 2 posters for the price of 1! Simply order 1 poster and you will be sent another of the same design at the same size - so 1 for you and 1 to give as a gift :-)
***
This original poster design was created exclusively for GraphicSound - and features lyrics from the classic track 'Town Called Malice by The Jam along with the iconic 'Target' Mod icon. A perfect piece of artwork to put on your walls for fans of The Jam and Paul Weller. You won't find this for sale anywhere else on the planet. A class poster for a class band!
***
Better stop dreaming of the quiet life, 'cause it's the one we'll never know
And quit running for that runaway bus 'cause those rosy days are few
And stop apologizing for the things you've never done
'Cause time is short and life is cruel but it's up to us to change
This town called malice
***
SPECIAL OFFER: 2 poster prints for the price of 1! Simply order 1 poster and you will be sent another print of the same design at the same size. So one for you and one for a gift :-) What's not to like?
***
All posters are printed on high-quality 250gsm silk paper
***
Delivery only available in UK, and takes 3-4 working days.