Buy the perfect poster for House Music lovers: In the beginning there was Jack - let there be house!
£

19.99
On sale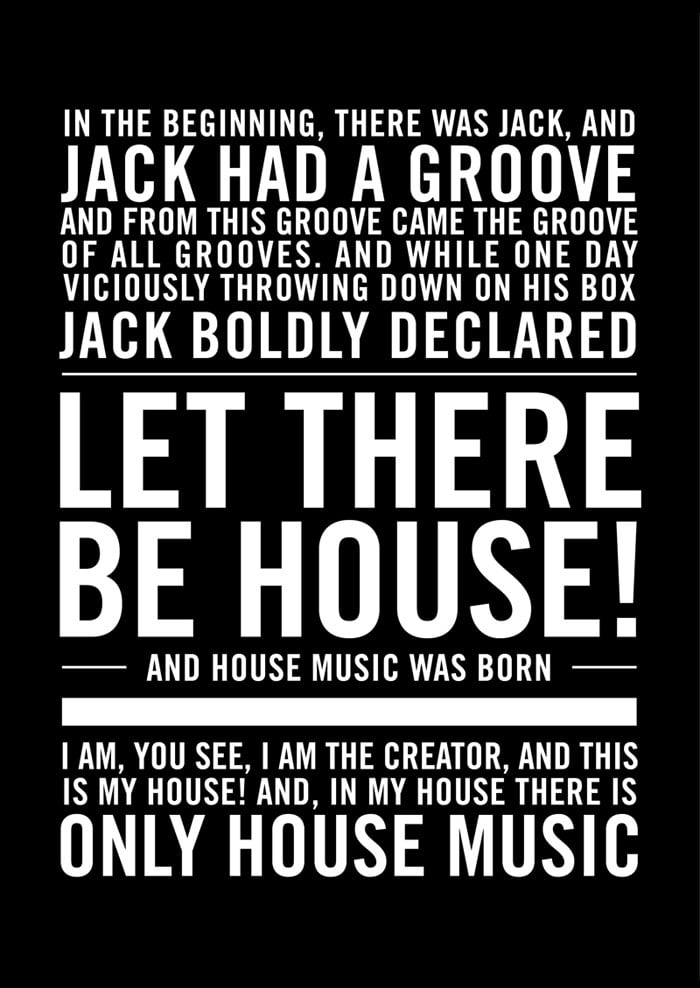 This original House poster design was created exclusively for GraphicSound and is something every proud House Music lover needs to have on their wall. You won't find this for sale anywhere else on the planet.
It features a snippet of the legendary House Music words, spoken by Chuck Roberts and made famous on MR. FINGERS – CAN U FEEL IT track. Full words below:
"In the beginning, there was Jack, and Jack had a groove.
And from this groove came the groove of all grooves.
And while one day viciously throwing down on his box, Jack boldy declared,
"Let there be HOUSE!"
and house music was born.
"I am, you see,
I am the creator, and this is my house!
And, in my house there is ONLY house music."
***
SPECIAL OFFER: 2 posters for the price of 1! Simply order 1 poster and you will be sent another of the same design at the same size - so 1 for you and 1 to give as a gift :-)
***
All posters are printed on Heavyweight 250gsm silk art paper for a quality feel.
The black bleeds to the edge of the paper - no white border.
Delivery only available in UK, and takes 3-4 working days.
Payment is via Paypal only.